#SquadGoals: Keltie Knight
When I sat down to think about who I would want in my "squad," as we now refer to it (thanks T-Swift). I knew that I would want to have my friends from childhood, my friends from high school, and then of course my sorority sisters, but I had to think long and hard about what celebrities I would want in my elite group of women. So I set out on my quest to pick my favorite girls, and guys, from fashion, TV, movies, and music.
Topping my list is Keltie Knight, a journalist extraordinaire. Keltie started her career as a dancer in New York with a little known company called the Rockettes. Following her time in NYC she ventured to LA where she now works on an entertainment news show on CBS called "The Insider" here she gets all glammed up for red carpets and specialty interviews with hollywoods biggest stars. To see who these stars are check out her Instagram.
In addition to her time spent on the CBS lot she cohosts a podcast, "The Lady Gang", with Becca Tobin and Jac Vanek.
When it comes to traveling I know that Keltie does her fair share of it, jetting back and forth between New York and LA, the grand trips like the Cannes Film Festival in France,and the occasional personal trip, like the one she took to South Africa, this girl knows how to travel!
One of the biggest perks about having a job that takes you to red carpets, is getting to wear gowns and beautiful works of art. Keltie has had some of the greatest looks this past year. I was completely obsessed with her Oscars gown, the geometric cuts were so cool, and the red was very fitting on such a glamorous night.
Now I can't talk about her fashion without mentioning the work of art that is Keltie's Met gown. After fashion week the Met Gala is the biggest event in fashion. Thus attending such an event would require a perfect dress. Keltie's was designed by Christian Siriano, I personally can't think of anyone better than him! The color of this gown will hit you like a ton of bricks, paired with the large bedazzled neck piece this dress screams I am powerful, I am beautiful, look at me!
When your job is to be on camera everyday it is expected to look quite presentable for the nation to see, Keltie is very good at this. If you follow me on social media you know that I tweet at Keltie or comment on Instagram almost everyday raving about how much I love her looks! I stalked her on Instagram, I went back almost a year, to pull some of her best looks.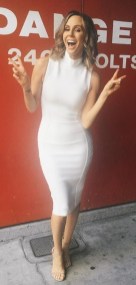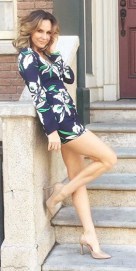 With a job on television there is a fine line one must walk between being overly high fashion and being business appropriate. My whole life I saw my dad wear the same boring pilot uniform, followed by my mom wearing some pretty awful office clothes. Seeing this has made me question greatly the idea of working a 9-5 job that involves sitting at a desk while wearing a black blazer and a white button up.
Here are four outfits that are perfect for any office job:
Some people will tell you that shorts are never the way to go when it comes to work wear. Well I am here to tell you that it's okay! I love a great dress short, pair it with a chunky heel and a fun blazer you have the perfect summer work outfit. Bold colors and prints can be great, if you know how to pair it without going over the top. The key to making patterns work for the office is to make them a statement piece in your look. If you are going to wear a striped piece make sure to pair it with solid pieces
I am a big fan of the ankle pant. I don't care if it is casual with a flipflop on the weekend, with a dress pant and sensible shoes at work, or in a leather pant and some killer shoes for a night out I always vote that an ankle pant is in style. With summer coming to an end and fall slowly sneaking up upon us there is going to be a significant change in what colors are transferable into the fall time. I'm all for colors, but now they need to start being brought down in shade. While I love very bright colors, the fall is more subdued. I also love white anytime of year. White is not just for spring and summer it's for 365 day in a row. If you are prepared to rock a color and white year round, look no further this outfit is for you.
I have many rules that I follow when getting dressed, one of my biggest is that there is always three colors in my outfit. So for this outfit there are white, black, and yellow. I love yellow in fashion, but with that said I do believe that it is one of the harder colors to wear. My advice on how to do it is with the pop of color in a bag or shoe. But if you are daring try it in a pencil skirt, I'll keep you posted if I try this.
The most classic pairing in a women's suit is a skirt and a blazer. I love traditions, but sometimes they need a little spicing up. Exaggerating a simple suit can be simple, a great tip is to mix and match jackets and skirts. I'm against wearing a full suit and a button up, so for a change in pace try a colored skirt or a printed blazer. If you are feeling adventurous try both together. With fall approaching I decided to use some darker colors. This dark green with the burgundy looks very rich. If you live in a place that is cold in the fall, you could add tights to your outfits, a simple black is great, but nylons work as well. For the most part tights have gone out of fashion, but I believe when it's cold they are necessary. If you are going to wear them stick to basic black and you will do fine! You can never go wrong with a statement piece, just avoid ones that look cheap. This can be done by avoiding colorful pieces and ones made with a lot of plastic.
I hope that this has given you some ideas for upgrading a traditional office look into something more fashion forward. If you would like to see what I have for sale take a look at my poshmark.
A special thanks to Keltie Knight for inspiring this post. Make sure to subscribe to "The Lady Gang" on iTunes or on their website. As well watch Keltie on "The Insider" (check your local listings) on CBS.
Most of the photos used in this post are directly for Keltie Knight's Instagram account. For more information on Keltie visit her website. If you like her fashion, add her on poshmark.
Originally Posted on August 15, 2016.
Sabrina Forscutt